3DBoatDesign™ - Features ...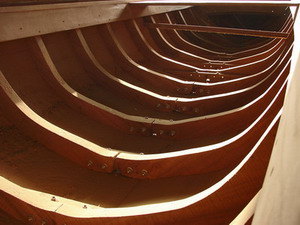 Did you ever want to design a boat yourself, but lacked the money or ability to do so?
Are you a real boat builder looking to improve your skills without having to take off?
Do you want to try some interesting designs without having to actually build it?
Or do you just want to have fun with a more flexible CAD Boat design software?
If any of these questions apply to you, this software is perfect for you.
3DBoatDesign™ offers you a very versatile CAD Software Package.
You can easily create various different boat shapes as well as other boat objects such as cabins, interior or exterior objects and it even has designer cars and air craft. The designs that can be made are only limited by your imagination...
Additional Features:

Create any type of floatable object.

Easy to use & extremely flexible.

Super low learning curve (Very easy to use).

Visually appealing, no complex menus.

Enhanced hydrostatic calculations (More accurate).

Locking & Unlocking of control points.

Add background images easily.

Easy 3D scaling, moving, rotating.

Advanced File import and export functions.

Fairing Tools & Advanced Modeling options.

More freedom in modeling knuckle lines.

Surfaces can contain holes and gaps.

Create complex shapes from just 1 surface.

The possibility to insert just 1 single control point.

Resistance calculations including the Delft series resistance calculation and The KAPER resistance method.

All from the thriving Open Source Community, this software is forever changing.

Ideal for any type of boat hull from luxury yachts to toy models.

3DBoatDesign™ uses a technique called surface modeling to define the shape of a ship.

You can "sculpt" the hull as if it were a very thin and flexible piece of cloth by pulling and shifting points.

Not just limited to the hull alone as Decks, superstructures, masts, keels and rudders can be modeled this way too.

3DBoatDesign™ uses subdivision surfaces to completely model the ship.

By default each model has 4 windows with a different view on the 3D hull.

Multi PC License - This can be used on as many systems as you want.

100% FREE Lifetime updates.

Moderate System Requirements:
Win 98/2000/ME/XP/Vista/Windows 7

550MHz CPU
128MB RAM
32 MB Hard Drive Space

 
If after all this you still have a few questions, check out the help area or Drop Us A Line.
We know you will enjoy this software and the Boat Designs it will help you provide.
The 3DBoatDesign.com Team!!